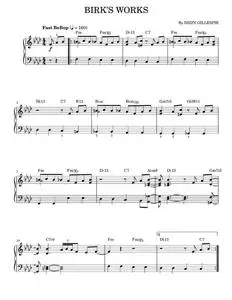 Birk's Works - Dizzy Gillespie (Piano Solo)
English | 3 pages | PDF | 2.1 MB
This sheetnotes file contains the complete piano solo transcription of "Birk's Works" by the legendary jazz trumpeter, Dizzy Gillespie. This 3-page piece is set in A♭ Major and F Minor and is composed of 46 measures, making it perfect for intermediate to advanced pianists. Perfect for jazz jam sessions or solo performances, Gillespie's works are a great addition to any piano player's repertoire.