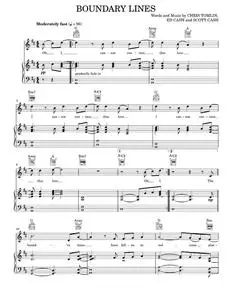 Boundary lines - Chris Tomlin (Piano-Vocal-Guitar)
English | 8 pages | PDF | 7.5 MB
This 8-page sheet music folio is an essential resource for musicians who are looking to learn the popular song "Boundary Lines" by Chris Tomlin. This song is composed by Words and Music by CHRIS TOMLIN, ED CASH and SCOTT CASH and has 106 measures, with a key signature of D Major and B Minor. This sheet music comes with both Piano and Vocal, as well as Guitar parts. Enjoy perfect renditions of this beloved song today!