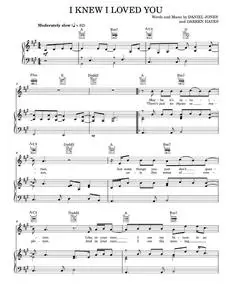 I knew i loved you - Savage Garden (Piano-Vocal-Guitar)
English | 4 pages | PDF | 4.3 MB
This piano-vocal-guitar sheetnotes file contains the award-winning song "I Knew I Loved You" from Savage Garden, composed by Daniel Jones and Darren Hayes. With 44 measures and a key signature of A major, F♯ minor, this sheetnotes file contains 4 pages of detailed sheet music for piano, vocal, and guitar. It has everything you need to practice and perform this classic love song.