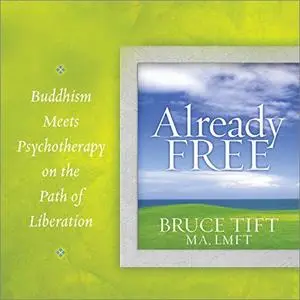 Already Free: Buddhism Meets Psychotherapy on the Path of Liberation [Audiobook] by Bruce Tift MA
English | September 23, 2014 | ASIN: B00NUD5O6Y | M4B@64 kbps | 7h 17m | 198 MB
Narrator: Bruce Tift MA
Different Paths, Different Strengths
Freedom from unnecessary suffering is the goal of both Buddhism and modern psychotherapy, yet each approaches this intention from a very different perspective. "Buddhist practice helps us awaken to a well-being that is independent of our circumstances," explains Bruce Tift, "while Western psychotherapy helps us bring our disowned experience into awareness in order to live in a more skillful and satisfying way."
On Already Free, this therapist and Buddhist practitioner opens a fresh dialogue between these two perspectives, and explores how each provides us with essential keys to experiencing full presence and aliveness.
Practical Tools and Wisdom from the Eastern and Western Traditions
Buddhism gives us powerful tools for breaking free of our own identity drama and our fascination with day-to-day problems, yet it does not address how early childhood experience shapes our adult lives. Western psychotherapy provides a wide range of proven techniques for understanding and untangling the development of our neurotic patterns, but it is only beginning to recognize the powerful impact of exploring awareness itself."These two approaches sometimes contradict and sometimes support each other," Tift explains. "When used together, they can help us open to all of life in all its richness, its disturbances, and its inherent completeness. "With a keen understanding of the wisdom of East and West, and a special focus on working with intimate relationships as a pathway to spiritual awakening, Bruce Tift presents seven immersive sessions of insights, wisdom, and practical instruction for realizing the fundamental freedom that is your birthright.
The Developmental Approach - why we still use our childhood survival skills after we outgrow them
The Fruitional Approach - Buddhist wisdom on finding liberation without resolving our historic issues
Relationships and Awakening - practices for couples to develop "healthy intimacy" and welcome connection and separateness
Why we use "neurotic organization" to limit our life experience, and how to challenge this self-perpetuating process