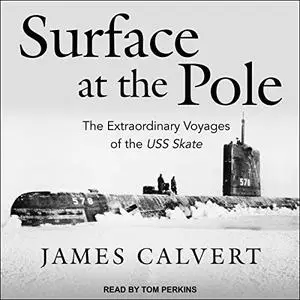 Surface at the Pole: The Extraordinary Voyages of the USS Skate [Audiobook] by James Calvert
English | February 25, 2020 | ASIN: B084KMZ6B2 | MP3@48 kbps | 7h 31m | 156 MB
Narrator: Tom Perkins
On 17 March 1959, the USS Skate became the first submarine to surface at the North Pole.
Under the guidance of James Calvert this nuclear submarine had navigated through polar ice packs, braved atrociously cold conditions, and broken through layers of thick ice to arrive at their destination; the northernmost point of the world.
This mission, however, was not just about completing a seemingly impossibly feat of Arctic exploration. It also had huge implications for military strategy during the height of the Cold War. Now that submarines were able to travel under and break through the ice, it gave the US military the capability of being avoid detection under the ice while being able to launch their Polaris missiles from points far closer to the Soviet Union.
James Calvert's remarkable account of his two voyages to the Arctic with the USS Skate provides vivid insight into life in a nuclear submarine and how these men were able to complete this treacherous mission.