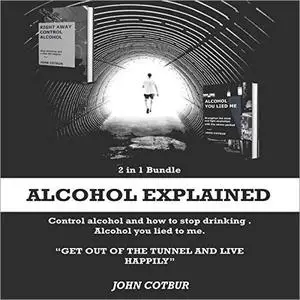 Alcohol Explained: 2 in 1 Bundle: Control Alcohol and How to Stop Drinking (Alcohol Lied to Me) [Audiobook] by John Cotbur
English | March 04, 2020 | ASIN: B085DQSRCK | MP3@128 kbps | 12h 50m | 705 MB
Narrator: Dr. Michelle Carabache
You are about to enter into a new phase of your life where alcohol does not take the center stage of your life so that you can have your relationships, career, dignity, and financial independence back for good!
We all start different habits innocently. But as years go by, we start understanding the true impact of our life choices or habits. One such habit is drinking alcohol. Only someone with an alcohol problem understands the true or impact of his or her habit.
You know best how much alcohol you take. The question is: Do you have a problem with how much you take?
Has anyone in your social and professional circles complained about your alcohol intake and part of you feels that the concerns may be justified? Are ready to take measures to tame your runaway alcohol intake but have tried multiple times without any tangible results?
You are not alone. Alcohol addiction affects about 15 million Americans. The problem is not you. It has a lot to do with the alcohol more than it has to do with you!
If you answered yes to the above questions, this audiobook is for you, as it takes a holistic approach to conquering alcoholism for good! It will answer each possible question you may have about alcoholism.
More precisely, you will learn the A-Z of ending alcoholism, including:
How innocent drinking here and there ends up becoming an addiction so that you know where you may have slipped
What goes on in your mind as you nurture alcoholism from your first bottle to the level where alcohol is a problem
What are the good, the bad, and the ugly side of alcohol
What are the statistics and science behind addiction to alcohol
What may have predisposed you to your current alcohol addiction problem
How alcoholism ruins families, breaks marriages, and puts your career growth in jeopardy
How to effectively stop feeling angry while living with a heavy drinker companion
What are the hazards they don't talk about regarding alcohol and the habit of drinking alcohol
What you need to effectively break free from the chains of alcohol addiction broken in a step-by-step format
What are some powerful tips that will hijack your strong desire for alcohol and other drugs and set you up on a recovery path
How to keep off alcohol addiction for the rest of your life
And much more!
Even if you've tried countless times to overcome alcohol addiction but failed, don't give up. Giving up is not an option - you only lose if you give up.
In any case, don't you think Thomas Edison would have been more justified to quit making the light bulb after trying for over 900 times? He just looked at his setbacks as "ways not to make a light bulb". You have found many ways on how not to break from alcohol addiction.