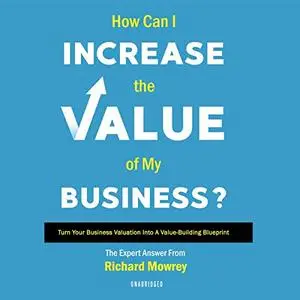 How Can I Increase the Value of My Business?: Turn Your Business Valuation into a Value-Building Blueprint [Audiobook]
English | June 23, 2020 | ASIN: B0899WLHNV | MP3@64 kbps | 3h 21m | 92.4 MB
Author: Richard Mowrey | Narrator: Brian Callanan
Dramatically increase your wealth and secure your retirement by unlocking the "real value" hidden in your business.
Whether you're looking to attract investors, sell your company, retire in style, or reach a new level of success, maximizing the value of a business should be the heart of all operational and longer-term strategic planning. But how do you identify and focus on those factors that improve value while reducing risk?
This insightful audiobook by business valuation expert and international best-selling author Richard Mowrey shows you exactly how to use the information in your valuation report to take meaningful stress-free steps toward financial freedom as well as personal and business success.
Who is this audiobook for?
How Can I Increase the Value of My Business? was specifically made to help business owners and their advisors who want to:
Discover exactly what really impacts a business's worth
Learn what specific operational focus matters most to potential business investors
Deploy value measures to accelerate major value increases
Understand and reduce the potential loss of value in an "unplanned" ownership transfer
Reduce the risks as seen through the eyes of prospective buyers
Reduce operating risks that can negatively impact transaction values
For more than three decades Certified Management Accountant and Certified Business Appraiser Richard Mowrey has built a reputation as an expert in the valuation and the ownership transfer of privately held businesses. His direct, conversational approach has provided invaluable guidance to business owners that has dramatically increased the value of their businesses. The examples in this audiobook are an extension of the methods Mowrey uses with his private clients to ensure owners fully understand valuation principles and how to impact value drivers.
This audiobook shows you how to:
Cultivate a value-planning environment to optimally use newfound business intelligence
Examine and benefit from your business' primary value drivers
Find hidden assets that can contribute to your financial goals
Deploy the Gordon Growth Model as you start the planning journey
Quickly gain momentum toward better estate, financial, and business planning
You'll learn why it is important to understand the basics of business valuation and readiness assessment - both qualitative and quantitative. By systematically measuring and increasing the value of your business you can aim at the valuation target needed to fill your long-term retirement financial gap. Preparation for the future based on a current valuation report that when used effectively will pay big, big dividends!
This easily understandable audiobook also addresses:
The mindset required to break away from the pull of daily business issues
How big a difference an early focus on value assessment can make to your family
How small improvements in multiple business areas combine to dramatically increase value
What you should know about the "transferability pyramid" to foster continuous improvements
For any business owner, there are sometimes more questions than answers about how to create a "value-building" blueprint they can use. How Can I Increase the Value of My Business? offers a time-tested approach to answer those questions and to put any business owner on a path to consistently increase the value of their business.