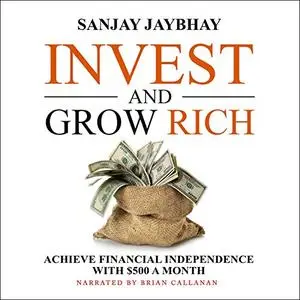 Invest and Grow Rich: Achieve Financial Independence with $500 a Month [Audiobook]
English | June 23, 2020 | ASIN: B08BG7JK36 | MP3@64 kbps | 4h 36m | 126 MB
Author: Sanjay Jaybhay | Narrator: Brian J. Callanan
Are you stuck in the middle-class trap and want to earn your way out?
Invest and Grow Rich is a factually-based personal finance "boot camp" that offers easy-to-follow concepts that will appeal to those seeking approachable solutions to managing budgets and assets.
All concepts are explained with the example of rental-property investing, but the same thinking can be used for any kind of investment or business. It's "Money Mastery for the Middle Class."
Warning: Listening to this book and following the advice within can cause a significant improvement in your financial status!
Discover the 11 surprisingly common sense money concepts followed by millionaires. Start listening now to:
Learn how to compound your net worth: it's easier than you think
Find out the common mistakes everyone makes around good and bad debt
Discover new ways to reboot your leveraging skills
Learn the difference between active and passive income
Understand necessities, liabilities, and assets
Learn about four-dimensional investing
Figure out how to beat inflation
Discover the one change every millionaire-in-training learns to make
Learn about supersize downsizing
Invest and Grow Rich answers the question: What actions do self-made breadwinners routinely practice? Grab your copy now and start growing rich today!