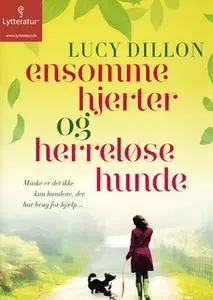 «Ensomme hjerter og herreløse hunde» by Lucy Dillon
Dansk | ISBN: 9788771625592 | MP3@64 kbps | 16h 51m | 462.9 MB
39-årige Rachel oplever sit livs krise. Efter at have mistet sit job, sin lejlighed og sin kæreste gennem ti år, arver Rachel et kæmpe hus på landet efter sin moster, dennes elskede border collie samt et overfyldt internat med herreløse hunde, selv om hun stort set intet ved om hunde. Og da slet ikke bryder sig særligt meget om dem.
Trods sine begrænsede evner - og lyst - tager Rachel udfordringen op og forsøger at køre internatet videre i sin salige mosters ånd. Efterhånden som det lykkes Rachel at finde nye hjem til de herreløse hunde, viser det sig, at det måske ikke kun er hundene, der har brug for hjælp….
Ud over Rachel møder vi en stor og broget skare af mere eller mindre selvvalgte singler og fraskilte, enlige mødre, ungkarle, barnløse, frivillige hundeluftere, knap-så-villige børn og mulige eksmænd, der alle hver især har deres problemer og bekymringer at se til, men som har én stor fælles interesse: HUNDE
Copyright © Lucy Dillon 2009
Published by agreement with Leonhardt & Høier Literary Agency A/S, Copenhagen. All Rights Reserved.
Oversat af Rikke Toft Kleemann fra Lost Dogs and Lonely Hearts
England, kærlighed, kvinder, parforhold, hunde