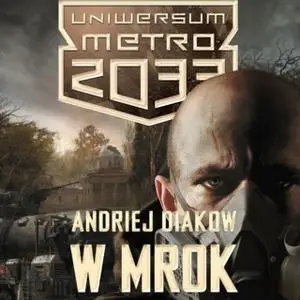 «W mrok» by Andriej Diakow
Polski | ISBN: 9789177354451 | MP3@64 kbps | 12h 21m | 339.3 MB
W mrok to dojrzalsza, bardziej kunsztowna i jeszcze mroczniejsza kontynuacja powieści Andrieja Diakowa Do światła: dotychczas najlepszej – w opinii czytelników – książki w ramach projektu Uniwersum Metro 2033.
"Straciliśmy niemal wszystko! Nie mamy już gdzie wrócić. Ale nikt nie jest w stanie pozbawić nas najważniejszego: hartu ducha. Dzisiaj, jak nigdy, powinniśmy pozostać silni, dlatego że przed nami ostatnie, być może najistotniejsze wyzwanie. Cokolwiek się stanie, trzeba odszukać sprawców wybuchu i rozliczyć się z nimi za śmierć naszych bliskich".
Na oczach załogi Babla, pływającej platformy wiertniczej, mieszkańcy Moszcznego giną w ogniu eksplozji nuklearnej. Kto i dlaczego podniósł rękę na pokojową społeczność wyspy, niwecząc nadzieje na lepszą przyszłość dla garstki ocalałych z Katastrofy? Podejrzenie pada na mieszkańców petersburskiego metra, którzy otrzymują ultimatum: w ciągu tygodnia muszą ustalić winnych. Inaczej wszyscy podzielą los unicestwionej wyspy… Śledztwo spoczywa na barkach stalkera Tarana. Sytuację komplikuje niespodziewane zniknięcie Gleba, jego przybranego syna. Mnożą się pytania, a droga do prawdy jest trudna. Odpowiedzi są bowiem ukryte w mroku – na samym dnie ludzkiej duszy.
"Skażony świat, dzikie bestie, głód – to tylko opakowanie, tło, zewnętrzna strona mroku. Z tym nauczyliśmy się już walczyć. Prawdziwy mrok jest wewnątrz, w naszych głowach. I od niego wyzwolić się będzie znacznie trudniej".