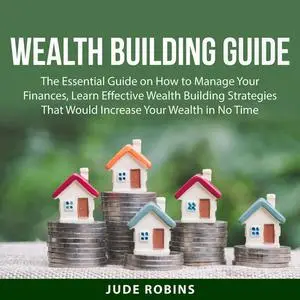 «Wealth Building Guide» by Jude Robins
English | MP3@192 kbps | 22 min | 30.8 MB
Wealth Building Guide: The Essential Guide on How to Manage Your Finances, Learn Effective Wealth Building Strategies That Would Increase Your Wealth in No Time
Why do so many people fail to make money online even though they do everything their coach or mentor has told them to do? Why do two people who are in the exact same business niche and have the exact same business and marketing tools available go on to have one fail while the other succeeds? There are a lot of budding entrepreneurs who gave up on their dreams due to the negative forces that seem to keep their business down. If you have a business and want to ensure its success, cashflow is one thing you need to pay attention to. A lot of businesses fail just because they fail to adequately plan their cash flow. All their care is about is profit. While a business may be profitable, some businesses don't even get to see these profits immediately and they lose cash in their hands to help keep the business running. You will have an awareness of cash flow and what you're doing right and wrong with your practices.
This audiobook will teach you how to maintain cash flow so your business will continue to run. You will learn tips on how to manage and increase your cash flow. 
This audiobook will cover the following topics:How to Manage Your Cash Flow The Fine Art of Getting Your Money on TimeIncreasing Your Cash FlowCreating Your Cash Flow Management PlanLearning How to Anticipate Your Financial FutureAvoiding and Managing Cash Flow MistakesAnd many more!
Cash is king and without it, without proper management of it, your business can and will suffer. To suffer more,