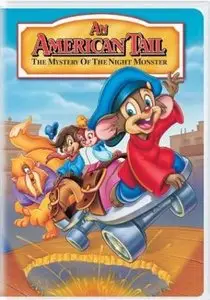 An American Tail 4 - The Mystery of the Night Monster (1999)
AVI XviD MPEG-4 codec| 640 x 480 @ 1198 KB/s | Stereo @ 128 KB/s CBR | 01:12:17 | English | 685.60 MB
A ferocious mouse-nabbing monster is terrorizing Manhattan's rodent world and haunting poor Fievel's dreams. Teaming up with a mouse reporter, Fievel and his pals plunge into a head-over-tails chase after the scoop of the century, and a close-up look at the "creature" itself!
Starring the voices of Dom DeLuise, Lacey Chabert and Robert Hays, this spectacular full-length family adventure features three original new songs.