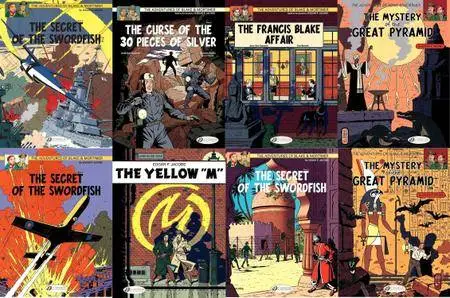 Blake & Mortimer Complete Collection (2007-2013)
English | CBR | 17 Volumes | 1.00 GB
The complete collection of Blake and Mortimer famous Belgian comics series created by the Belgian writer and comics artist Edgar P. Jacobs.
The main protagonists of the adventures are Philip Mortimer, a leading British scientist, and his friend Captain Francis Blake of MI5. The main antagonist is their sworn enemy, Colonel Olrik, who has appeared in almost every book. Their confrontations take them into the realms of detective investigation and science-fiction, dealing with such themes as time travel,Atlantisand espionage.
• Blake & Mortimer Vol 01 - The Yellow M (2007)
• Blake & Mortimer Vol 02 - The Mystery of the Great Pyramid Pt 1 (2007)
• Blake & Mortimer Vol 03 - The Mystery of the Great Pyramid Pt 2 (2008)
• Blake & Mortimer Vol 04 - The Francis Blake Affair (2008)
• Blake & Mortimer Vol 05 - The Strange Encounter (2010)
• Blake & Mortimer Vol 06 - S.O.S. Meteors (2010)
• Blake & Mortimer Vol 07 - The Affair of the Necklace (2010)
• Blake & Mortimer Vol 08 - The Voronov Plot (2010)
• Blake & Mortimer Vol 09 - The Sarcophagi of the Sixth Continent Pt 1 (2011)
• Blake & Mortimer Vol 10 - The Sarcophagi of the Sixth Continent Pt 2 (2011)
• Blake & Mortimer Vol 11 - The Gondwana Shrine (2011)
• Blake & Mortimer Vol 12 - Atlantis Mystery (2012)
• Blake & Mortimer Vol 13 - The Curse of the 30 Pieces of Silver Pt 1 (2012)
• Blake & Mortimer Vol 14 - The Curse of the 30 Pieces of Silver Pt 2 (2012)
• Blake & Mortimer Vol 15 - The Secret of the Swordfish Pt 1 (2013)
• Blake & Mortimer Vol 16 - The Secret of the Swordfish Pt 2 (2013)
• Blake & Mortimer Vol 17 - The Secret of the Swordfish Pt 3 (2013)