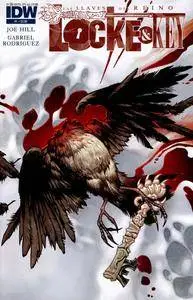 Locke & Key (Vol. 4): Las Llaves del Reino (Keys to the Kingdom) #1-6
IDW, 2010 | CBR/RAR | Spanish | 6 núm. (Completo) | 64.1 MB Totales
Autores: Joe Hill y Gabriel Rodríguez
Un número de antología, de esos que los gringos llaman "must be" (debe tenerse). Tal vez, por ser el primer número, la trama no nos entregue mucha información ni nos cautive como en las entregas anteriores, pero lo que sí es digno de alabanza es el homenaje que el dueto Hill-Rodriguez rinden a Bill Watterson, el creador de la clásica tira cómica Calvin & Hobbes. Sencillamente magnífico.