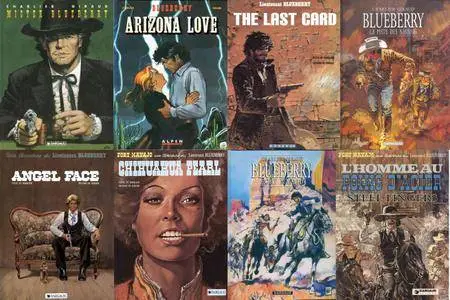 The Blueberry Saga Complete Collection (1967-1995)
English | CBR | 24 Volumes | 780.77 Mb
Blueberry is Western comic series created in the Franco-Belgian bandes dessinées (BD) tradition by the Belgian scriptwriter Jean-Michel Charlier and French comics artist Jean "Mœbius" Giraud. It chronicles the adventures of Mike Blueberry on his travels through the American Old West. Blueberry is an atypical western hero; he is not a wandering lawman who brings evil-doers to justice, nor a handsome cowboy who "rides into town, saves the ranch, becomes the new sheriff and marries the schoolmarm." In any situation, he sees what he thinks needs doing, and he does it.
The series spawned out of the 1963 Fort Navajo comics series, originally intended as an ensemble narrative, but which quickly gravitated around the breakout character "Blueberry" as the main and central character after the first two stories, causing the series to continue under his name later on. The older stories, released under the Fort Navajo moniker, were ultimately reissued under the name Blueberry as well in later reprint runs. Two spin-offs series, La Jeunesse de Blueberry (Young Blueberry) and Marshal Blueberry, were created pursuant the main series reaching its peak in popularity in the early 1980s.
It has been remarked that during the 1960s, Blueberry "was as much a staple in French comics as, say, The Avengers or The Flash here [in the USA]."