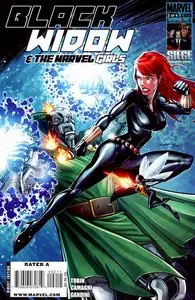 Black Widow and The Marvel Girls #2 (Of 4)
Eng | RS & Hotfile | CBR | Marvel Comics | Dec 23 2009 | 25 Pages | 19.7 MB
+ Black Widow and the Marvel Girls Issue #1
One of the most enigmatic characters of the Marvel Universe in her own mini-series, a tie-in to the current Siege event.
She's the most efficient spy in the world and one of the world's deadliest women, but before there was ever a Black Widow, there was the Red Room, a brutal KGB training ground for assassins, undercover agents, and the most ruthless of spies. Now, tasked with removing a rogue weapon's dealer from an impregnable safe house, the Black Widow remembers her escape from the Red Room training facility, an escape only made possible with the aid of the most unlikely of allies, the Asgardian sorceress known as Amora...the Enchantress. THEN IN ISSUE 2, fitting in with the Avengers is not an easy job, not for a woman with no true powers beyond years of training and a ruthless ambition to succeed at any given task, and after a midair battle separates the Black Widow from the rest of her team, the mission to protect an advanced robot just got harder. Luckily, the Black Widow has her skills on her side, and the Avenger known as the Wasp at her back. Unluckily, the robot's owner is Dr. Doom, and Latveria's despotic ruler will stop at nothing to reclaim his own. --
Visit my
blog
often for regular and complete comic book series updates.