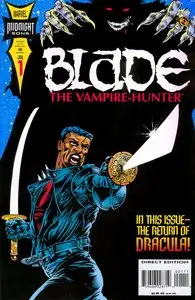 Blade: The Vampire Hunter #1-10 Complete
Eng | RS, MU & Hotfile | CBZ | Marvel Comics | 101 MB Total
was the debut color-comics limited series of the fictional superhero vampire hunter in the Marvel Comics Universe that ran from July 1994 to April 1995, written by Ian Edginton (last two issues by Terry Kavanagh) and penciled by Doug Wheatley. The title character Blade was created by writer Marv Wolfman and penciller Gene Colan, and first appeared in the comic book The (July 1973) as a supporting character.
Visit my
blog
often for regular and complete comic book series updates.