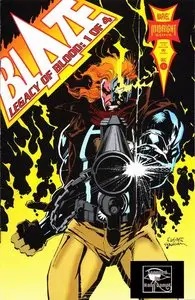 Blaze - Legacy of Blood #1-4 Complete
Eng | RS & MU | CBR | Marvel Comics | 41.7 MB Total
A 4-part limited series spin-off of the Marvel saga, featuring the Earth-616 character of Jonathon aka "Johnny" Blaze. This story arc focuses on Johnny Blaze's search for his children Emma and Craig who were kidnapped by rogue Blood member Regent, with the help of... well, telling you any further would spoil the fun.
Visit my
blog
often for updates to, and more spin-offs and special issues in: the Complete Amazing Spider-Man (Issues 1-591 and counting) and other complete Spider-Man series; Grimm Fairy Tales (Issues 1-37 and counting); the complete Wolverine Origins (Issues 1-34 and counting); the complete Transformers official movies comics series; for the complete classic EC Comics series; and for other complete comics collector's series.