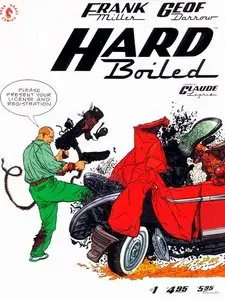 Comics Collector's Series: Frank Miller's Hard Boiled #1-3 Complete
Eng | RS & MU | CBZ | Dark Horse Comics | 31.6 MB Total
is a three-issue comic book mini-series written by Frank Miller and drawn by Geof Darrow, and published by Dark Horse Comics in 1990. In it, Carl Seltz, an insurance investigator, discovers he is also a homicidal cyborg tax collector who happens to be the last hope of an enslaved robot race. Ultra-violent (posibly one of the most violent if not the bloodiest comic book ever), luridly explicit, vertiginously granular and truly stylish, it sets a benchmark for others of its kind to follow.
Visit my
blog
often for updates to, and more spin-offs and special issues in: the Complete Amazing Spider-Man (Issues 1-593 and counting) and other complete Spider-Man series; Grimm Fairy Tales (Issues 1-37 and counting); the complete Wolverine Origins (Issues 1-34 and counting); the complete Transformers official movies comics series; for the complete classic EC Comics series; and for other complete comics collector's series.