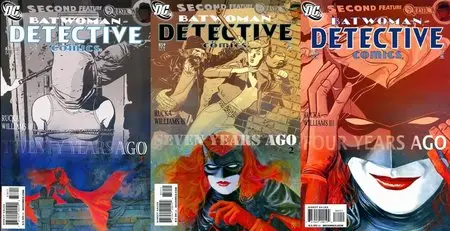 Detective Comics #858-860 (Ongoing) - Go: The Origin of Batwoman
Eng | Rs & Hotfile | 2 CBR 1 CBZ | DC Comics | Release Dates Oct 28 - Dec 23 2009 | 52.5 MB Total
The n , period. Greg Rucka's writing transcends the medium into loftier realms and the artistry of J.H. Williams III and Cully Hammer in this three-issue origins story is as picture-perfect as a masterpiece could be. Truly, this creative team may the best DC Comics has in its roster today and Detective Comics, one of the best titles in its checklist. But do not take my word for it. Make the rounds of all the comics reviews for this story, CBR, IGN, all of them. Find out why they all gave it five stars and/or outstanding ratings. Better yet, read the comics for yourself.
Detective Comics #858 - 30 Pages | 12 MB The shocking and tragic origin story of Batwoman begins here! In "Go" part 1, young Kate Kane and her family are kidnapped by terrorists, and Kate's life – and the lives of her family – will never be the same! Plus, the mystery behind the villainous Alice is at last revealed! Then, in The Question co-feature, Renee's search for a missing girl comes to a bittersweet end, leaving Renee with more questions and an even bigger mystery for her to solve. As long as she can survive the night, that is… Detective Comics #859 - 30 Pages | 15.4 MB Batwoman's origin continues! In "Go!" part 2, Kate Kane is outed and forced to leave West Point. When she lands in Gotham City, she meets officer Renee Montoya and has a fateful encounter with The Dark Knight that will forever change her life! The case may be closed closed, but questions remain in The Question's co-feature. And Renee won't stop until she has the answers! When a new lead points to the Sicilian mafia, The Question turns to an expert for assistance. But can she trust the Huntress to be professional when family rears its ugly head? Detective Comics #860 - 30 Pages | 25 MB Batwoman's origin story concludes here! In 'Go!' part 3, Kate Kane becomes Batwoman and goes after a terrorist cell in Gotham, but all does not go according to plan. Plus, in the present, Kate confronts her father about her supposedly dead sister! In the co-feature, the Huntress joins The Question in her quest to track down the leaders of the human trafficking ring. But finding them - and bring them to justice - will be harder and more dangerous than either hero thought! Written by Greg Rucka; Art by JH Williams III; Co-feature art by Cully Hamner; Cover by JH Williams III --
Visit my
blog
often for regular and complete comic book series updates.