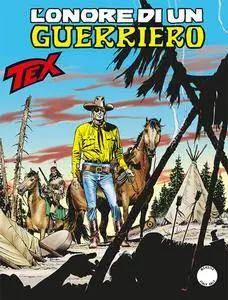 Tex Willer Mensile 666 - L'Onore di un Guerriero (2016)
Italian | CBR + PDF | 116 pages | 102 MB
Un tranquillo villaggio Cheyenne viene attaccato da un gruppo di predoni. Il massacro è brutale e si salva solo una giovane squaw che ha riconosciuto i colpevoli: sono stati i Crow. Anche alcuni commercianti e coloni bianchi hanno subìto tremende scorrerie. Tex e i suoi pards si dirigono al villaggio Crow. Il fiero capo Lunga Lancia è loro amico. Lui assicura di non aver niente a che fare con gli spargimenti di sangue, ma Tex, pur ritenendolo un guerriero leale, comincia ad avere dei dubbi. Inoltre, dopo aver resistito a un attacco, i quattro pards scoprono che i predoni sono muniti di fucili Springfield come quelli in dotazione alle giacche blu di Fort Logan.
Pe... in ITALIANO CLICCA QUI
>&... Blog Here <<<
If you like this release please support Developer / Publisher and BUY it.
If you'll find that my links are dead please let me know through the Private Messages.
Please DO NOT MIRROR