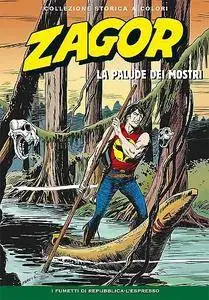 Zagor Collezione storica a colori N. 112 - La Palude dei Mostri (2014)
Italian | CBR + PDF | 279 pages | 222 MB
Zagor è al villaggio dei Seneca, dove il suo grande amico Volpe Macchiata sta per sposare Ala del Tramonto. Ma la ragazza sparisce in acqua. Chi l'ha uccisa? Il Re di Darkwood indaga e scopre che il responsabile è una mostruosa creatura anfibia, proveniente dalla Mosquito Island dove sorge un avamposto militare, con un gigantesco laboratorio all'interno. È qui che nascono gli esseri anfibi, frutto di un esperimento militare, il Progetto Uomini Rana, creato da una vecchia conoscenza di Zagor: il professor Adolfo Verybad.
Pe... in ITALIANO CLICCA QUI
>&... Blog Here <<<
If you like this release please support Developer / Publisher and BUY it.
If you'll find that my links are dead please let me know through the Private Messages.
Please DO NOT MIRROR