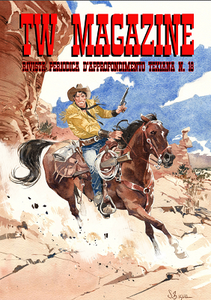 Tex Willer – Magazine N.18 (01-2019)
Italiano | CBR + PDF | 54 pages | 134 MB
Nel sommario di questo numero 18, infatti, troviamo una lunga intervista allo stesso Biglia, un articolo sull'evoluzione che hanno avuto le storie di Tex nelle varie ristampe, un approfondimento sul personaggio di Capitan Barbanera e uno su Proteus, più un curioso articolo sulle copertine della serie a striscia in cui non compare Tex e tanti altri contenuti della rivista.
Pe... in ITALIANO CLICCA QUI
>&... Blog Here <<<
If you like this release please support Developer / Publisher and BUY it.
If you'll find that my links are dead please let me know through the Private Messages.
Please DO NOT MIRROR