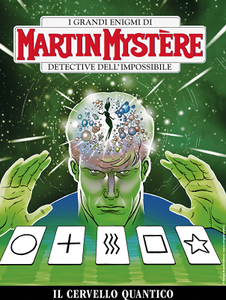 Martin Mystère 364 - Il Cervello Quantico (08/2019)
Italiano | PDF + CBR | 164 pagine | 184 MB
Le capacità della mente umana potrebbero andare molto oltre le nostre attuali conoscenze. Ma non è detto che sia un bene…Per alcuni scienziati il cervello non funziona con i meccanismi della tradizionale fisica newtoniana, ma secondo i principi in parte ancora misteriosi della fisica quantistica. Il "Cervello Quantico" potrebbe spiegare fenomeni sconosciuti come i poteri ESP, considerati di solito pura fantasia anche perché sembrano manifestarsi casualmente e non possono essere ripetuti a comando. E se invece un nuovo approccio all'argomento permettesse non solo di studiare certi presunti poteri ma anche di svilupparli magari a fini malefici? È il difficile caso che Martin Mystère si appresta ad affrontare.
Pe... in ITALIANO CLICCA QUI
>&... Blog Here <<<
If you like this release please support Developer / Publisher and BUY it.
If you'll find that my links are dead please let me know through the Private Messages.
Please DO NOT MIRROR