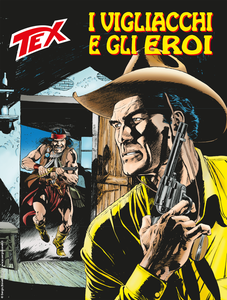 Tex Willer Mensile 711 - I vigliacchi e gli eroi (Gennaio 2020)
Italiano | 116 pages | PDF + CBR | 190 MB
Un gruppo di uomini assediati dagli indiani…L'assedio di Mezcali continua ad alto tasso di drammaticità: i soldati del sergente Connelly, la famiglia di attori girovaghi, il giocatore, il prigioniero, il cercatore d'oro, i due infallibili rangers… alcuni di loro di loro di dimostreranno vigliacchi e altri eroi o pazzi o traditori: la vera faccia di ciascuno si svelerà davanti alla morte!
Pe... in ITALIANO CLICCA QUI
>&... Blog Here <<<
If you like this release please support Developer / Publisher and BUY it.
If you'll find that my links are dead please let me know through the Private Messages.
Please DO NOT MIRROR