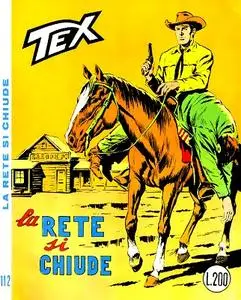 Tex N.112 - La rete si chiude (Araldo 1970-02)
Italiano | 116 pages | PDF + CBR | 153 MB
A Hermosillo, gli sgherri di don Manuel Benavides hanno sbattuto Kit Willer in un cella della hacienda del loro padrone, in quel momento in trasferta per i suoi sporchi affari di trafficante d'oppio. Non hanno però fatto i conti con i pards, che conquistano il ranch e si mettono in attesa della polizia federale messicana con la quale si sono alleati. Purtroppo per i nostri, giunge per primo alla fattoria il bieco Benavides, con un nutrito gruppo di tirapiedi! Scatta così un feroce assedio che viene interrotto soltanto dal provvidenziale arrivo dei federali.
Altri FUMETTI in ITALIANO QUI
- My Blog - QUI i miei Articoli -
If you like this release please support Developer / Publisher and BUY it.
If you'll find that my links are dead please let me know through the Private Messages.
Please DO NOT MIRROR