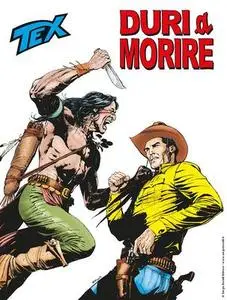 Tex Willer Mensile 713 - Duri a morire (Marzo 2020)
Italiano | 116 pages | PDF + CBR | 173 MB
Scontro all'ultimo sangue nel villaggio fantasma di San Miguel…Oltre ai due evasi in fuga Cooper e Taylor, la banda dei fratelli Decker che li insegue per scoprire il segreto della refurtiva scomparsa di Cooper, e i due rangers Tex e Carson che danno la caccia a tutti quanti, un nuovo elemento entra in scena: i feroci cacciatori di schiavi Mohave! I nuovi, temporanei inquilini che hanno preso possesso delle spettrali e fatiscenti baracche nella ghost town di San Miguel sono destinati a non rimanere in vita a lungo… Ma la pelle la venderanno a caro prezzo!
Altri FUMETTI in ITALIANO QUI
- My Blog - QUI i miei Articoli -
If you like this release please support Developer / Publisher and BUY it.
If you'll find that my links are dead please let me know through the Private Messages.
Please DO NOT MIRROR