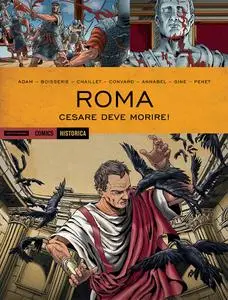 Historica 64 - Roma – Cesare deve morire (Gennaio 2018)
Italiano | 182 pages | PDF + CBR | 359 MB
44 A.C., Cesare, dopo aver sottomesso i popoli della Gallia, viene nominato dittatore. Concupito dalla regina egizia Cleopatra VII, si fa convincere a trasformare la repubblica romana in monarchia e a trasferire ad Alessandria la capitale del regno. Ma il palladio, la statua maledetta che Enea portò con se a Troia, ha ben altri progetti per i figli della lupa. Di omicidio, di congiura in congiura, il palladio sceglie i suoi "campioni" della distribuzione, come il folle imperatore Caligola. Ma quando nel 325 D.C. l'imperatore Costantino convoca il primo conciglio ecumenico a Nicea, è chiato che il cristianesimo ha ormai vinto sugli dei olimpici della tradizione. Al palladio non rimane che scatenare tutto il suo odio, evocandp a Roma l'avversario del Dio unico: Satana! Seguendo la traccia del mito, la storia di Roma come non si era mail letta.
Altri FUMETTI in ITALIANO QUI
- My Blog - QUI i miei Articoli -
If you like this release please support Developer / Publisher and BUY it.
If you'll find that my links are dead please let me know through the Private Messages.
Please DO NOT MIRROR