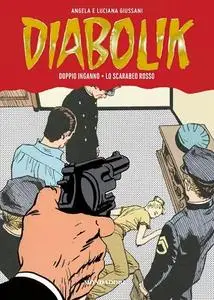 Diabolik - Gli Anni della Gloria N.024 - Doppio inganno - Lo scarabeo rosso (2013-01-17)
Italiano | 256 pages | PDF + CBR | 269 MB
La collana Diabolik - Gli anni della gloria propone gli episodi 301-400 (mancano quindi per ora all'appello gli episodi 201-300) in 50 albi dal formato e dal design ormai collaudato e di successo. Formato analogo a quello delle collane che l'hanno preceduta, circa 250 pagine a colori per volume con 2 episodi di Diabolik su ogni albo, albi cartonati di ottima qualità, contenuti redazionali di approfondimento, ordine cronologico di pubblicazione, edizione restaurata. Le storie ospitate in questa collana sono state realizzate tra il 1975 ed il 1980.
Altri FUMETTI in ITALIANO QUI
- My Blog - QUI i miei Articoli -
If you like this release please support Developer / Publisher and BUY it.
If you'll find that my links are dead please let me know through the Private Messages.
Please DO NOT MIRROR