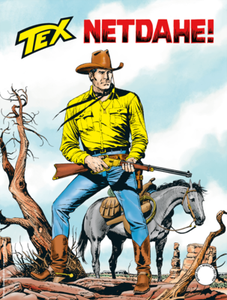 Tex Willer Mensile 716 - Netdahe! (Giugno 2020)
Italiano | 116 pages | PDF + CBR | 183 MB
Spietati e sanguinari, gli inafferrabili Netdahe terrorizzano la Sonora! I predoni Netdahe, sotto la guida del crudele Yavakai, assalgono gli sperduti pueblos del Messico settentrionale, massacrando gli uomini e rapendo le donne e i bambini. Contro di loro, c'è solo la sparuta, mal pagata e peggio armata, guarnigione di rurales di Canaan, comandata dal tenente Castillo. Più a nord, in Arizona, Tex e i pards hanno i loro guai. Stanno prelevando un loro vecchio nemico, prigioniero a Yuma, per farlo testimoniare contro un pezzo grosso che ancora non ha pagato per i suoi delitti, un certo ufficiale dell'esercito… Il quale, però, ha preso le sue contromisure, inviando dei sicari a uccidere il testimone!… E, problema persino peggiore, ha spedito contro Tex e soci anche una compagnia di cavalleggeri!
Altri FUMETTI in ITALIANO QUI
- My Blog - QUI i miei Articoli -
If you like this release please support Developer / Publisher and BUY it.
If you'll find that my links are dead please let me know through the Private Messages.
Please DO NOT MIRROR