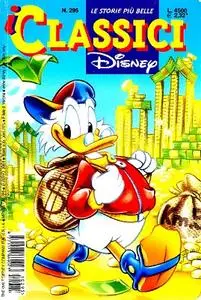 I Classici Disney 295 Serie II - Le Storie più belle (Disney 2001-06)
Italiano | 244 pagine | PDF+CBR | 323 MB
I Classici di Walt Disney è una serie a fumetti antologica che ripropone storie Disney già pubblicate sul settimanale Topolino; ha esordito nel 1957 pubblicato fino al 1989 dalla Arnoldo Mondadori Editore; poi dalla Walt Disney Company Italia fino al 2013 e infine dalla Panini Comics. Nel 2018 la seconda serie ha superato i 500 numeri pubblicati ininterrottamente dal 1977. Le copie della prima serie hanno raggiunto quotazioni ragguardevoli per un fumetto, arrivando a superare i 2 000 € per una copia ben tenuta dei primi numeri.
Altri FUMETTI in ITALIANO QUI
- My Blog - QUI i miei Articoli -
If you like this release please support Developer / Publisher and BUY it.
If you'll find that my links are dead please let me know through the Private Messages.
Please DO NOT MIRROR