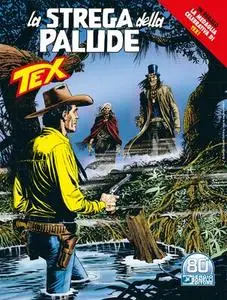 Tex Willer Mensile 727 - La strega della palude (Maggio 2021)
Italiano | 116 pagine | PDF+CBR | 186 MB
Per la vecchia Marine niente è impossibile, neppure rubare un corpo più giovane e bello…Il segreto di Carrillo, il killer che colleziona pistole, è la sua sinistra socia in affari criminali: la mambo vudu Marine. Nascosta nel suo inaccessibile covo nella giungla, la vecchia strega trama un'impresa spaventosa. Vuole rapire la figlia del colonnello e scambiare il suo giovane corpo con il suo ormai decrepito. Tex intende impedirlo, ma, oltre a Carrillo e ai feroci alligatori della palude, si trova davanti le colt di un avversario formidabile e imprevisto: Kit Carson!
Altri FUMETTI in ITALIANO QUI
- My Blog - QUI i miei Articoli -
If you like this release please support Developer / Publisher and BUY it.
If you'll find that my links are dead please let me know through the Private Messages.
Please DO NOT MIRROR