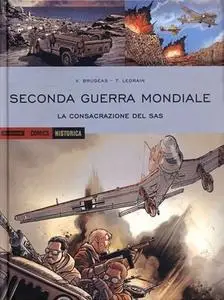 Historica N.93 - Seconda Guerra Mondiale, La consacrazione del SAS (Luglio 2020)
Italiano | 102 pagine | PDF+CBR | 261 MB
Maggio 1942, due ostacoli separano il generale rommel dalla vittoria in africa. sulla terra fer- ma la città di tobruk, unico porto di acque profonde tra egitto e tunisia, snodo essenziale per i rifornimenti alle truppe dell'asse. nel mediterraneo l'isola di malta, vera portaerei naturale fondamentale per l'viii armata britannica dislocata nell'africa del nord. l'isola è bombardata giorno e notte dalla luftwaffe, bloccando di fatto le attività degli alleati. unica soluzione, dare più risorse al maggiore david stirling, che con il suo gruppo di commando può sabotare gli aerei tedeschi di stanza sulla costa. stirling ha pochi ma qualificati estimatori tra i superiori e riesce a rimpolpare il suo distaccamento l con entusiasti paracadutisti francesi. è ormai tempo di dare uno stemma e un motto allo special air service!
Altri FUMETTI in ITALIANO QUI
- My Blog - QUI i miei Articoli -
If you like this release please support Developer / Publisher and BUY it.
If you'll find that my links are dead please let me know through the Private Messages.
Please DO NOT MIRROR