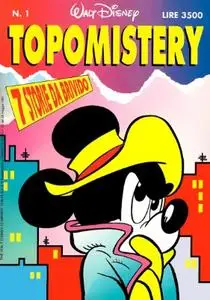 Topomistery 01 (Disney 1991-05)
Italiano | 244 pagine | PDF+CBR | 365 MB
Topomistery è stato un fumetto Disney pubblicato in Italia con periodicità mensile. In totale ne sono stati pubblicati 73 albi. La rivista ristampava storie con protagonista Topolino ed altri personaggi dell'Universo dei topi alle prese con dei misteri. Successivamente ha cominciato a proporre anche storie inedite. A partire dal numero 38 sono state stampate anche storie di Bill Walsh e Floyd Gottfredson.
Altri FUMETTI in ITALIANO QUI
- My Blog - QUI i miei Articoli -
If you like this release please support Developer / Publisher and BUY it.
If you'll find that my links are dead please let me know through the Private Messages.
Please DO NOT MIRROR