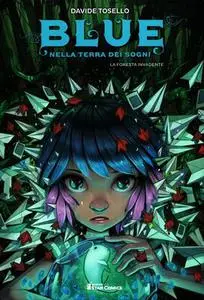 Star Comics presenta extra 11 – Blue nella terra dei sogni 1, La foresta invadente (Star Comics 2020-09)
Italiano | 80 pagine | PDF+CBR | 115 MB
La Blue è una ragazzina comune: le piace sognare, vuole bene alla sua mamma, ama le mattinate di sole e le colazioni. Ma il giorno in cui un aeroplanino di carta arriva alla finestra della sua stanza, con un messaggio per lei, la sua vita cambia radicalmente. La giovane sarà catapultata in un mondo di tenebre, in cui il guardiano di una foresta maligna ha imprigionato i sogni e i loro proprietari. Per salvare sua mamma e tutte le altre persone, Blue dovrà prepararsi per una grande avventura, fatta di incontri con una moltitudine di creature magiche e colorate. Blue dovrà affrontare le sue paure, per realizzare i propri sogni …
Una moderna avventura che strizza l'occhio ad Alice nel Paese delle Meraviglie, con influenze che spaziano dai cartoni animati Pixar all'animazione giapponese, con una generosa influenza di Tim Burton. Un racconto intenso ed emozionante, un'avventura che, a ben vedere, è un'allegoria dell'infanzia stessa.
Altri FUMETTI in ITALIANO QUI
- My Blog - QUI i miei Articoli -
If you like this release please support Developer / Publisher and BUY it.
If you'll find that my links are dead please let me know through the Private Messages.
Please DO NOT MIRROR