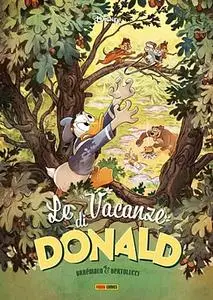 Disney Collection 06 - Le Vacanze di Donald (Panini 03-2022)
Italiano | 71 pagine | PDF+CBR | 268 MB
La collana dedicata alle graphic novel Disney internazionali si arricchisce di un nuovo prezioso volume, appena pubblicato nell'edizione originale francese e subito disponibile in Italia, che per la prima volta vede come protagonista assoluto Paperino! Magistralmente sceneggiata da Frédéric Brrémaud, e meravigliosamente illustrata da Federico Bertolucci, che ne ha curato anche la colorazione e che riconferma l'assoluto protagonismo italiano nella scena internazionale, la storia prende il via quando il nostro amato Papero decide di allontanarsi dal caos della città per un meritato periodo di relax in campagna.
Altri FUMETTI in ITALIANO QUI
- My Blog - QUI i miei Articoli -
If you like this release please support Developer / Publisher and BUY it.
If you'll find that my links are dead please let me know through the Private Messages.
Please DO NOT MIRROR