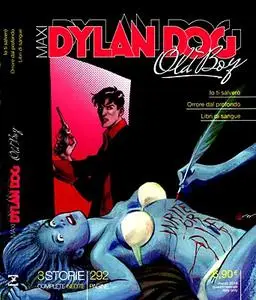 Maxi Dylan Dog N.32 - Io ti salverò - Orrore dal profondo - Libri di sangue (SBE 2018-02)
Italiano | 292 pagine | PDF+CBR | 346 MB
Tre nuovi incubi per l'Old Boy, tre orrori che partono da drammi molto reali…
Io ti salverò
È un lungo, tortuoso, dolorosissimo percorso, quello che stavolta attende Dylan. La sua nuova ragazza, una ballerina classica, scopre malauguratamente e all'improvviso di essere affetta da un cancro ai polmoni talmente diffuso da essere ormai inoperabile…
Orrore dal profondo
All'interno di sogni ambientati in un allucinante universo subacqueo, Peter Lightning - un militare in congedo permanente per motivi di salute - assiste a tragici omicidi che, in seguito, scopre accaduti per davvero. Per fare luce sull'incredibile vicenda, a Lightning non resta che rivolgersi all'Inquilino di Craven Road.
Libri di sangue
Due coniugi separati, che stanno cercando di riavvicinarsi, muoiono in un tragico incidente, in cui perde la vita anche Goodman, un prestigioso editore. Dylan, coinvolto sentimentalmente con la figlia di Goodman, si ritrova in un inestricabile e mortale intreccio di realtà e finzione.
Altri FUMETTI in ITALIANO QUI
- My Blog - QUI i miei Articoli -
If you like this release please support Developer / Publisher and BUY it.
If you'll find that my links are dead please let me know through the Private Messages.
Please DO NOT MIRROR