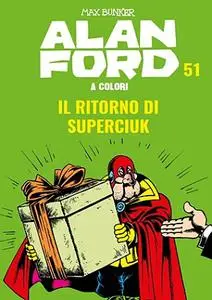 Alan Ford A Colori 51 - Il Ritorno Di Superciuk (Marzo 2020)
Italiano | 135 pagine | PDF+CBR | 133 MB
Rivivi le avventure più divertenti di Alan Ford, Numero Uno, Bob Rock e di tutto il mitico Gruppo T.N.T. scritte da Max Bunker e disegnate dalla matita di Magnus, in una collezione cronologica tutta a colori, a 50 anni dalla prima pubblicazione. Un'occasione unica per celebrare il fumetto italiano più dissacrante di sempre.
Altri FUMETTI in ITALIANO QUI
- My Blog - QUI i miei Articoli -
If you like this release please support Developer / Publisher and BUY it.
If you'll find that my links are dead please let me know through the Private Messages.
Please DO NOT MIRROR