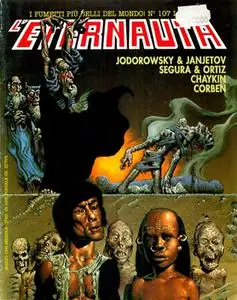 L'Eternauta 107 (Comic Art 1992-03)
Italiano | 132 pagine | PDF+CBR | 197 MB
L'Eternauta (El Eternauta) è un fumetto di fantascienza scritto da Héctor Oesterheld e disegnato da Francisco Solano López, pubblicato dal 1957 sulla rivista Hora Cero, in Argentina, dove raggiunse una notevole fortuna, venendo ristampato più volte, un successo estesosi nel resto del mondo, che gli ha fatto raggiungere una fama tale da venire considerato un capolavoro del fumetto mondiale.
Una notte di un giorno imprecisato della seconda metà del XX secolo un uomo si materializza improvvisamente a casa di uno scrittore di fumetti di Buenos Aires: si chiama Khruner, ossia "il vagabondo dell'infinito" e spiega di essere "l'eternauta", un pellegrino dei secoli che vaga alla ricerca della sua epoca e del suo mondo. Khruner inizia quindi a raccontare allo scrittore la propria storia.
Altri FUMETTI in ITALIANO QUI
- My Blog - QUI i miei Articoli -
If you like this release please support Developer / Publisher and BUY it.
If you'll find that my links are dead please let me know through the Private Messages.
Please DO NOT MIRROR