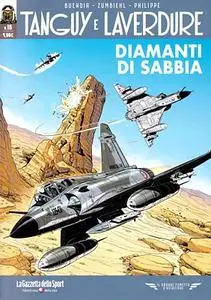 Il grande fumetto d'aviazione 46 - Tanguy E Laverdure 16 - Diamanti Di Sabbia (RCS 2021-12)
Italiano | 100 pagine | PDF+CBR | 365 MB
La Gazzetta dello Sport presenta, per la prima volta, "Il grande fumetto d'aviazione". L'opera completa, interamente a colori, di due grandi classici del fumetto di guerra franco-belga: Buck Danny e Tanguy e Laverdure, che nascono entrambi dalla penna di Jean-Michel Charlier, lo sceneggiatore di Blueberry, e dai disegni dei maestri Victor Hubinon (Buck Danny) e Albert Uderzo (Tanguy e Laverdure). Preparati a rivivere con Buck Danny i grandi eventi militari che hanno segnato il XX secolo, dalla Guerra di Corea al conflitto nei Balcani, passando per la Guerra Fredda, la corsa allo spazio e il crollo del blocco sovietico, e parti con Tanguy e Laverdure per avvincenti missioni segrete con gli assi dell'aviazione francese.
Altri FUMETTI in ITALIANO QUI
- My Blog - QUI i miei Articoli -
If you like this release please support Developer / Publisher and BUY it.
If you'll find that my links are dead please let me know through the Private Messages.
Please DO NOT MIRROR