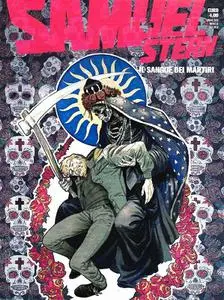 Samuel Stern 32 - Il Sangue Dei Martiri (Bugs Comics 2022-07)
Italiano | 100 pagine | PDF+CBR | 203 MB
Ho fatto nuovamente quello strano sogno. Una torma di esseri scheletrici mi appende a un albero spinoso e, lentamente, vengo divorato dalle loro bocche. Nessun dolore, solo l'angoscia che cresce, mentre aspetto disperatamente una rivelazione, prima dell'inevitabile fine. Il risveglio, spietato, non me la concede. In qualche modo invidio il fanatico, il cui archetipo è da me quanto di più lontano possa esistere.
Altri FUMETTI in ITALIANO QUI
- My Blog - QUI i miei Articoli -
If you like this release please support Developer / Publisher and BUY it.
If you'll find that my links are dead please let me know through the Private Messages.
Please DO NOT MIRROR