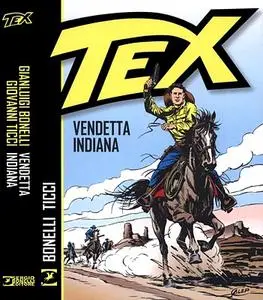 Collana libri a fumetti - Tex, Vendetta indiana (Bonelli 2015-10)
Italiano | 452 pagine | PDF+CBR | 462 MB
Per la prima volta in un unico volume le prime storie di un grande interprete di Tex, Giovanni Ticci. Gli esordi del maestro in cui ritroviamo le sue ispirazioni ai classici americani dell'epoca d'oro e il suo sconfinato amore per l'avventura disegnata!
Il sanguinario colonnello Arlington massacra i pacifici Utes di Black Elk, soltanto Nashiya, figlia di Nuvola Rossa, sfugge alla carneficina e chiede aiuto ad Aquila della Notte. Giunto a Goldena, Tex raddrizza la schiena a Fraser, un baro che, scacciato a frustate dalla città, spinge i sanguinari Apaches di Wa-Ha-Tah a compiere un autentico massacro. Dopo aver inchiodato una banda che aveva assaltato un treno per depredare l'oro dell'esercito, Tex e Carson organizzano l'evasione da Yuma di Carver, un superstite della gang, per scoprire dov'è nascosto il bottino della rapina.
Altri FUMETTI in ITALIANO QUI
- My Blog - QUI i miei Articoli -
If you like this release please support Developer / Publisher and BUY it.
If you'll find that my links are dead please let me know through the Private Messages.
Please DO NOT MIRROR