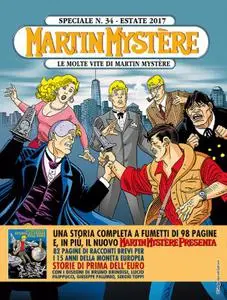 Martin Mystere Speciale 34 - Le molte vite di Martin Mystere (Bonelli 2017-07)
Italiano | 183 pagine | PDF+CBR | 191 MB
La vita vissuta finora è davvero l'unica possibile? E cosa sarebbe successo se quella di Martin Mystère avesse preso pieghe diverse? Se i sentieri del destino lo avessero condotto in altre direzioni? Tre sorprendenti vicende "alternative", tre racconti "what if" che rivisitano tre importanti "punti di svolta" nella storia del Detective dell'Impossibile, per celebrare il trentacinquennale del Buon Vecchio Zio Marty. Girando l'albo, il consueto "Martin Mystere presenta" propone "Storie di prima dell'Euro", quattro classici racconti brevi per il 15° compleanno della moneta europea.
Altri FUMETTI in ITALIANO QUI
- My Blog - QUI i miei Articoli -
If you like this release please support Developer / Publisher and BUY it.
If you'll find that my links are dead please let me know through the Private Messages.
Please DO NOT MIRROR

center]