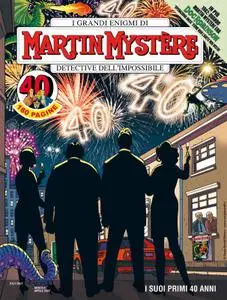 Martin Mystere N.386 - I Suoi Primi Quarant'Anni (SBE Aprile 2022)
Italiano | 164 pagine | PDF+CBR | 205 MB
Nel 1982, a Istanbul, Martin Mystère risolse un caso definito dai media "Il Fantasma del Topkapi", che rese il Detective dell'Impossibile famoso in Turchia. Della vicenda, però, non abbiamo altre informazioni e neppure il Buon Vecchio Zio Marty si è mai dilungato sull'argomento. Nel 2022, esattamente quarant'anni dopo – un lasso di tempo che la tradizione vuole ricco di simbologie – Martin si trova di nuovo nella città sul Bosforo, e "il fantasma" ritorna alla sua vera natura: qualcosa che risale alla guerra di Troia e, forse, anche a tempi più remoti. In più, "Operazione Arca" una storia di Doc Robinson, scritta da Alfredo Castelli e disegnata da Angelo Maria Ricci.
Altri FUMETTI in ITALIANO QUI
- My Blog - QUI i miei Articoli -
If you like this release please support Developer / Publisher and BUY it.
If you'll find that my links are dead please let me know through the Private Messages.
Please DO NOT MIRROR

center]