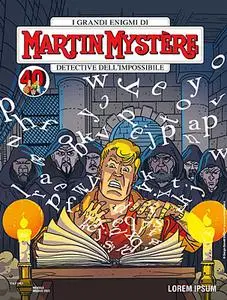 Martin Mystere N.387 - Lorem Ipsum (SBE Maggio 2022)
Italiano | 100 pagine | PDF+CBR | 181 MB
Quando Aaron Goldberg affida a Martin Mystère il compito di intervistare il nuovo genio della narrativa, l'enigmatico e sfuggente Wilbur Wallace, il Detective dell'Impossibile accetta immediatamente. È curioso di sapere come un completo sconosciuto possa essere in cima alle liste dei bestseller come nessuno prima di lui. Quale mistero si nasconde dietro questo exploit letterario? Di chi può fidarsi Martin nel decifrare il Codex Lorem Ipsum? Non riesce a immaginare il terribile segreto dietro il talento di Wallace e i personaggi senza scrupoli pronti a uccidere per metterci le mani sopra…
In questo album inizia "Zona Y", il nuovo romanzo a puntate di Andrea Carlo Cappi. Inoltre, una storia di Zio Boris e il fumetto di Bonelli Kids!
Altri FUMETTI in ITALIANO QUI
- My Blog - QUI i miei Articoli -
If you like this release please support Developer / Publisher and BUY it.
If you'll find that my links are dead please let me know through the Private Messages.
Please DO NOT MIRROR