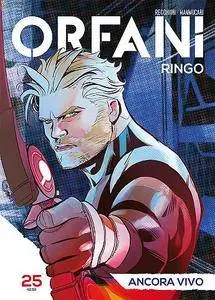 Orfani: Le Origini N.25 - Ancora Vivo (2017)
Italian | 52 pages | CBR + PDF | 102 MB
Sono trascorsi vent'anni dallo scontro finale tra Ringo e Jonas. La Terra sta morendo e solo i fortunati vincitori di una speciale lotteria avranno il privilegio di lasciare il pianeta verso un mondo migliore. Nel tentativo di uccidere Jsana Juric, capo del Governo Straodinario di Crisi, un gruppo di giovani ribelli viene catturato dai Corvi, micidiale guardia personale della presidentessa. Barbara, uno dei leader della rivoluzione, decide di chiedere aiuto a Ringo. Nonostante sia in ritiro, l'ex-Pistolero dovrà suo malgrado rientrare in azione.
If you like this release please support Developer / Publisher and BUY it.
If you'll find that my links are dead please let me know through the Private Messages.
Please DO NOT MIRROR

&g... Blog Here <<<