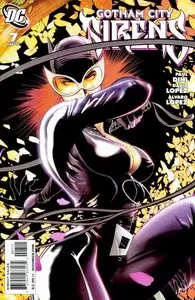 Gotham City Sirens #7 (Ongoing)
Eng | RS & Hotfile | CBR | DC Comics | Dec 23 2009 | 27 Pages | 21.4 MB
+ Gotham City Sirens Issues #1-6 Complete
is a new comic book ongoing series written by Paul Dini, with art by Guillem March. The series features some of the most popular female characters that inhabit Gotham City, including Catwoman, Poison Ivy, and Harley Quinn. The first issue was released last June 24, 2009 as a part of the "Batman: Reborn" relaunch in all of DC's Batman titles. Given the cast and the undeniably cheesecake artwork, mature readers might become prone to sexual fantasies...
Catwoman takes charge as the other Sirens fall victim to their most dangerous challenge yet! By: Paul Dini, Guillem March, David Lopez, Alvaro Lopez --
Visit my
blog
often for regular and complete comic book series updates.