Click to Enlarge!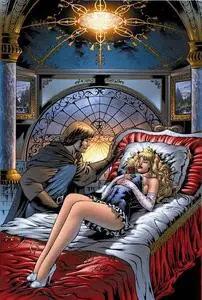 Grimm Fairy Tales / Book 5
English | Full Colored | CBR | 16.3 MB | 23 pages
Written By:
Ralph Tedesco & Joe Tyler
Pencils:
John Toledo
Inks (not digital):
Marc Deering
Colors:
Transparency Digital
Design:
David Seidman
Letters:
Artmonkeys
Cover:
Al Rio
Brett has a huge crush on Haley, the hottest girl in school, and when she asks him to do her a risky favor he decides it`s worth it for a chance to win her over. His decision calls on a mysterious stranger who introduces him to the world of Grimm Fairy Tales. A beautiful yet narcissistic princess becomes the victim of a terrible curse. A handsome servant soon realizes he might have the ability to break the spell and marry the girl of his dreams but he quickly realizes that sometimes it is best to let sleeping dogs lie.