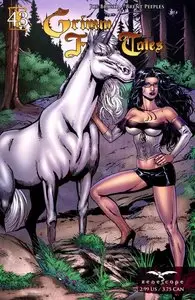 Grimm Fairy Tales #43 (Ongoing)
Eng | RS, MU & Hotfile | CBR | Zenescope Entertainment | Dec 23 2009 | 38 Pages | 17.3 MB
+ All Grimm Fairy Tales Comic Books & Related Titles of Zenescope Complete
s is an ongoing comic book series published by Zenescope Entertainment that began publication in June 2005. It is a horror series that takes old fairy tales and gives them twists, sometimes extending them and sometimes changing them. The latest in this series, Issue No. 43 entitled "The Last Unicorn" was released Dec 23, 2009.
A mythical creature of intense power finds itself needed by both the forces of good and evil. When the last unicorn appears in central park both Sela and Belinda are enlisted to find the magical creature for very different reasons. Sela seeks to protect the creature and guide it back home while Belinda needs it for her own evil plot. But unknown to both women a third party with malevolent plans for the creature is set to enter the game. Sela finds herself in a race against time to bring the last unicorn back to its own realm before her rivals can accomplish their goals. By: Joe Brusha, Di Amorim --
Visit my
blog
often for regular and complete comic book series updates.