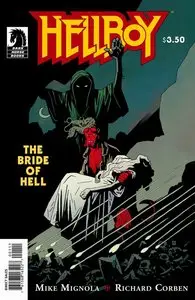 Hellboy: The Bride of Hell (One-Shot)
Eng | RS MU & Hotfile | CBZ | Dark Horse Comics | Dec 23 2009 | 35 Pages | 31.9 MB
A spectacular one-shot that serves as an excellent introduction to Hellboy. MIke Mignola and Richard Corben, the same creative team from the Eisner-nominated miniseries creates an even better story, with an even better presentation. The care and effort show. As I've been saying, I like one-shots and standalone stories as compared to big, multi-issue, multi-title crossover events. This one-shot--a high-quality Minutemen scan-- is right up there among the best of 2009.
A year after their Eisner-nominated collaboration Hellboy: The Crooked Man, horror comics legends Corben and Mignola reunite! A nineteen-year-old girl is kidnapped and Hellboy tracks her down to a remote clearing in France where she's about to be given to Asmodeus, in a strange tale of ghosts, demonic revenge, lost love, and King Solomon. --
Visit my
blog
often for regular and complete comic book series updates.